On Tuesday I was ever so lucky to have the chance to attend Manchester Fashion Week for the Missguided shows as a VIP. I had such an amazing day, my plus one was my childhood friend Ellie and we had a fab time. I also met Maria from
missdriftedsnowwhite
again and met
Rosie Glow
and
She Wears Fashion
, such lovely and friendly bloggers. I managed to watch three catwalks, but only two I had good enough seats for photos, so here we go! :D.
Sorry about the bad photos, I changed camera for the second day so the photos will be much better :).
Missguided Colour Pop Catwalk: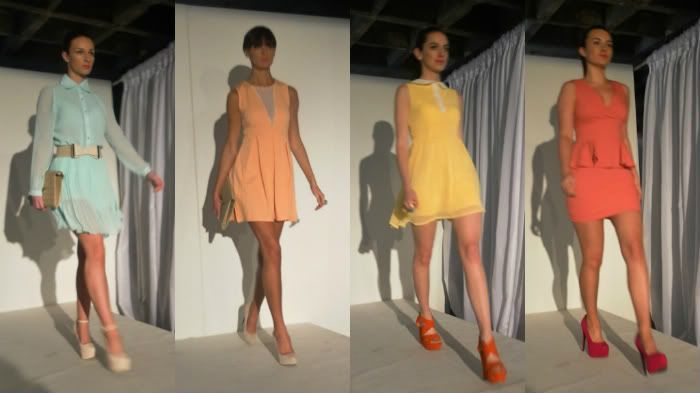 So embarrassed about the quality of these photos! But really wanted to show you guys. Will get better in tomorrows post.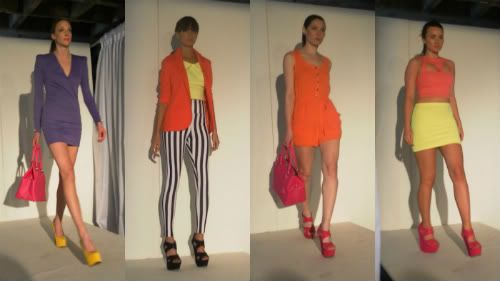 This catwalk consisted of pastels and neon colours and was my favourite out of all of the Missguided catwalks I saw. Most of the shoes were good and bright, and really, really high! The bright pink bag featured twice in the above photo was my favourite. Me and Ellie loved it! The orange sandals in the top photo are really gorgeous too, I find sandals that strap your feet in really easy to walk in.
Missguided Festival Grunge Catwalk: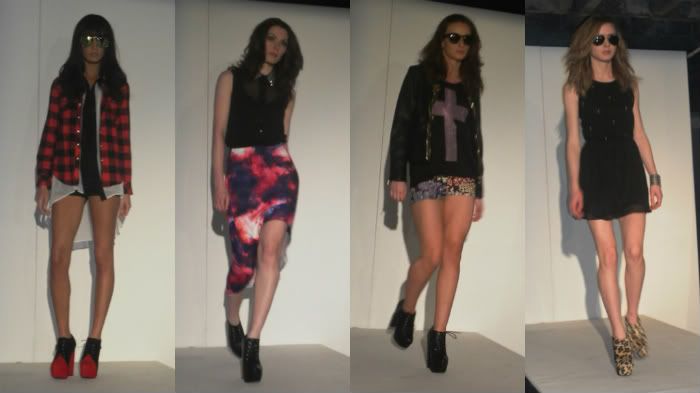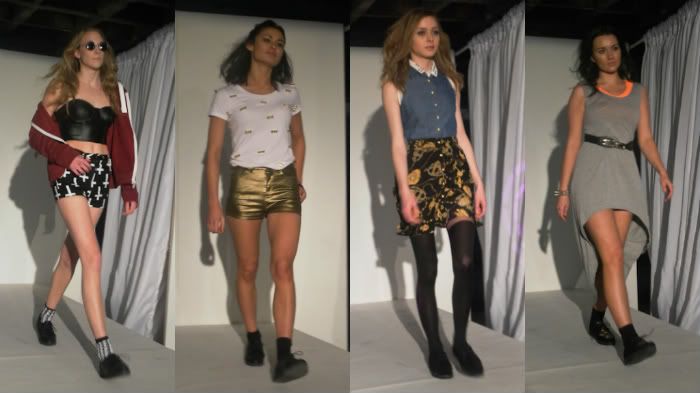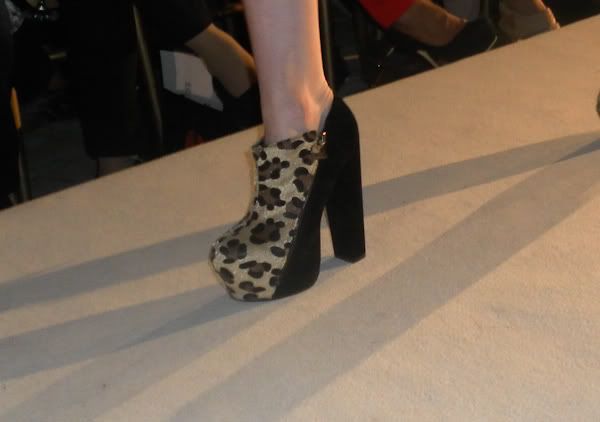 Spotted the most amazing shoes!
The grunge show was a little less my style. With a few flats featured and fringed tops, it surely had the grunge style. Some of the shorts were totally gorgeous, and I spotted my favourite shoes of the day in the picture above. The colours were much darker than those featured in 'Colour Pop', with the occasional statement piece in the form of bright shorts or other neon items.
I never knew Missguided had such an extensive collection! I've only ordered from them once before, but after seeing their clothes on the catwalk will be ordering a few times more in the future. You can check out Missguided '
here
'.
I'd like to thank Batiste for my tickets for Tuesday shows. I had the most amazing time. The catwalks took place once an hour and we milled about in-between talking, eating and drinking. The tickets cost £21.00 for each catwalk and around £40.00 for the whole day, it did seem pretty pricey, however, now I've been I do think it's worth that money.
Have you been to a fashion catwalk before? What's your favourite fashion week?
Becca :) x
Disclosure: Tickets provided free of charge, but I did have the most amazing time, 100% honest.